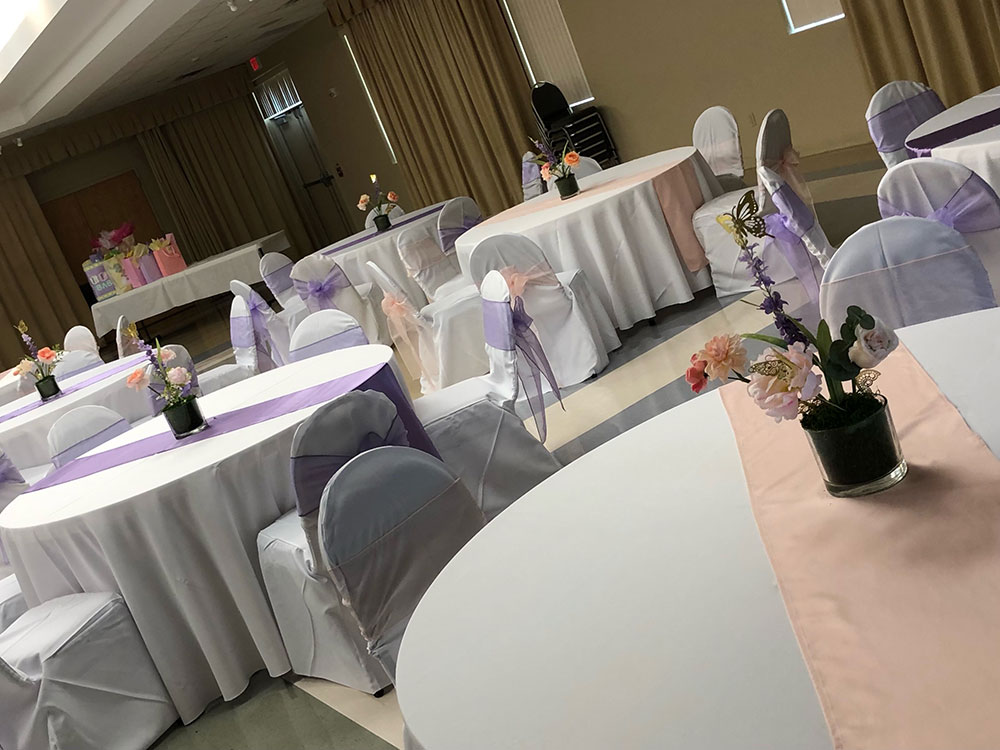 FAQs
Important things to know.
Caterers Kitchen
Included with your rental is full use of our caterers kitchen.  Food must come in prepared/precooked.  Use of the kitchen is for final preparation, warming & serving.
30" Oven/stove top
Commercial Refrigerator
Commercial sub-zero Freezer
200lb Ice Machine
Large 3-bay Sink
The kitchen counter includes a roll door that allows a closed service area for plating, etc. Conversely, the roll door can be open allowing for a buffet environment or possibly a beverage area.
Private access to the kitchen allows the caterer to come and go from parking lot without going through banquet space.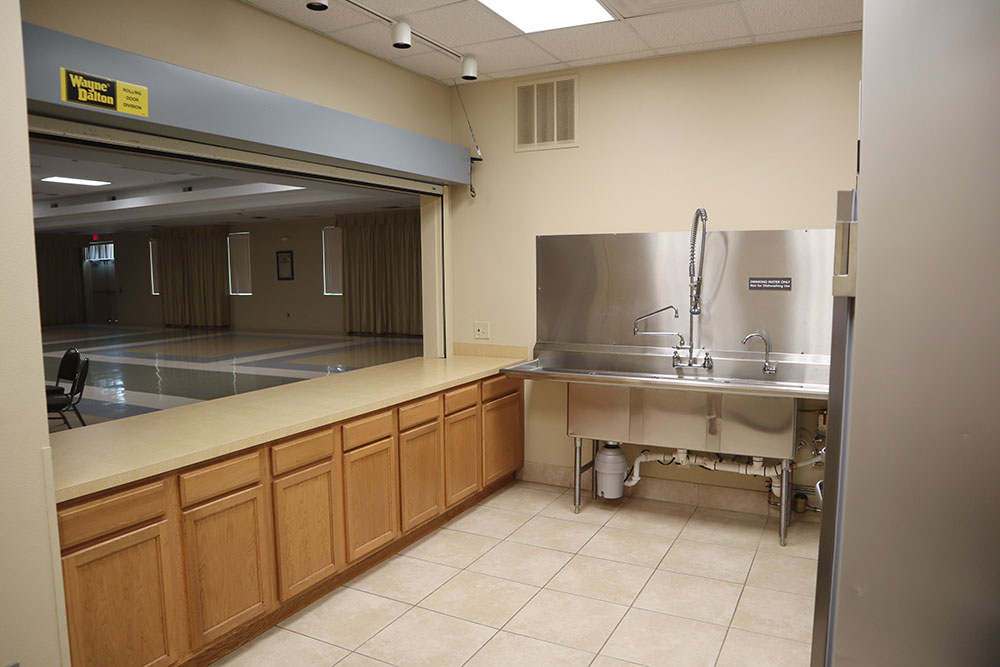 Tables & Chairs?
It is included with your rental fee. We work together with you defining a table layout to suit your needs. Once approved by you, our staff will have all tables and chairs set out before you come in.  We offer 60" rounds or rectangular of 8 ft, 6 ft, and 4 ft.
Start Time / Stop Time?
For Social events, you can choose either a 4 or 5 hour window of time. If additional time is needed, a fee of $125 per hour is added to agreement.  All events must end at midnight.
Decorations?
Christopher Hall is your blank canvas, you have the ability to create the perfect atmosphere for your special event. We encourage you to bring in professional vendors to assist with your décor and other services.  All decoration must be removed upon the conclusion of your event.
Setup Time?
Depending on your event type, we provide up to three hours the day of your event to decorate and get everything ready to go. Additionally, if the venue is available the day prior to your event, we will work with you to give you even more time for setup.
Tear down time?
We provide an additional one-hour after your event ends to remove decorations. Our staff will then breakdown tables and chairs, and clean the space.
Security?
We require law enforcement officer(s) during social events with greater than 50 guests and when alcohol is served.
Catering?
You can choose the vendors of your choice. We expect the catering company to clean up after the meal.
Parking?
We offer plenty of free parking for guests.
Texas Accessibility Standards
Our venue exceeds Texas Accessibility standards. There are no stairs when entering or exiting our event space. Our restrooms are on the event space directly and include three stalls, one of them is handicapped accessible. This is the same for both Men's and Women's restrooms.
The front building entrance includes a handicapped accessible door operated by accessible push-plates that are located inside and outside. The sidewalk near the building entrance includes a handicapped accessible ramp allowing access to/from sidewalk and pavement levels.
We have four designated parking spaces near the front of the building for handicapped accessibility. At this area, the sidewalk is flush with the pavement for accessibility.
Serving of Alcohol?
All alcohol must be served by designated in-house TABC certified bartender(s). Guests may not bring their own alcohol, no BYOB environment of any type.  Alcohol service will stop no later than 30 minutes before the end of the event.
Christopher Hall – Alcohol Policy
We want you to know that we operate as a Knights of Columbus Council. We are all volunteers and our proceeds go to our charitable obligations. Because we operate in such a manner, we have purposely decided not to maintain sellers licensing for any alcohol: beer, wine or liquor. We do not want to incur costs for licensing, added insurance, nor maintaining a full bar. All of these costs would negatively impact funds for our charitable obligations.
Because of this, we must follow a few guidelines:
We do not allow a BYOB environment of any type.

Guests are not permitted to bring their own.
Guests are not permitted to serve themselves any beverage with alcohol.

We do not allow a Cash Bar environment of any type.
We welcome you to bring in your own beverages with alcohol; however, this must all be brought in during your Decorating Window and stay through to the end.

This can be whatever you like: champagne, wine, liquor, beer (canned/bottled/kegs), margarita machine(s), etc.
Any leftover alcoholic beverages can go home with you after the end of the event.

In-house TABC certified bar server(s) must serve all beverages with alcohol.

During your event time, In-house bar servers will serve all beverages as an open bar.
We close bar service thirty (30) minutes before the end of your event.

We call Last Call approximately fifteen (15) minutes before closing the bar.

Bar servers will package any leftover beverages and have to ready to go home with you.
We reserve the right to card any guest(s).
We reserve the right to politely slow-down any guest(s) that may have had too much.

When beverages with alcohol are served, we require one law enforcement officer on site for every 100 guests. Costs are stated.

We were given the time we needed to set up and prepare our event. Everyone was so helpful and kind, we recommend this venue and will choose this place for future celebrations!
~ Arias Family
Wedding Reception for Reuben & Jill

Thank you to the wonderful volunteer staff of the Knights Of Columbus Hall! From setting up, scheduling a time to decorate, helping the catering staff set up and serve. All very timely and all with a smile. The Hall was spotless and everyone enjoyed the memories shared from screen provided. Highly recommend this Knights Of Columbus Hall.
Blessings
~ Gerardo Zapata y Familia
Memorial Reception for Joe Zapata

Without a doubt this has been the best place I have ever rented for an event. I can't thank the folks at Christopher Hall enough for making my daughter event go so smoothly. The place is very clean and the folks were super helpful. During the window we had to decorate one of the folks there helped us cover chairs. Now how awesome is that? I feel bad that I can't recall his name as it was a busy day but I can tell you I will book this place again. Thank you Gary, Wayne and others for everything!
~ Jo Ytuarte
Leah Graduation Party

Christopher Hall was the perfect place to have my daughter's Quinceañera we couldn't be happier with how everything went! First, the manager was the best to work with. Mr. Richmond was easygoing and professional from the start, and made us feel very welcome. You couldn't ask for a nicer guy to work with and anyone who has planned a Quinceañera knows you have a lot of contact with your venue prior to the event. All our expectations were met.
~ Esmeralda Ortega
Victoria's Quinceañera

Great Experience! Mr Gary is exceptional. From the minute I met him, his mission was to accomplish my dream wedding vision. He did. I loved his attentiveness, his availability, his eager to work with me and ALL my family members, etc. That takes a lot of patience and is very honorary in my opinion. I love his kind heartedness and the fact that he really cares about you and your special day. He recommended the BEST decor lady for our wedding, her name was Carmen Molina w/Carmelina's Creations.
~ Crystal H-Mancebo
Wedding

Christopher Hall offered the most amenities & it was the perfect size for a Sweet 16. The facility is so clean it would pass a military inspection. Gary is very friendly, kind & professional. He is knowledgeable about event planning & offered many great ideas. Richard went above and beyond the night of the event. Overall the venue was perfect, the managers for the facility were wonderful to work with and our decorator transformed the space & it was absolutely beautiful.
~ Donna Brown
Sweet 16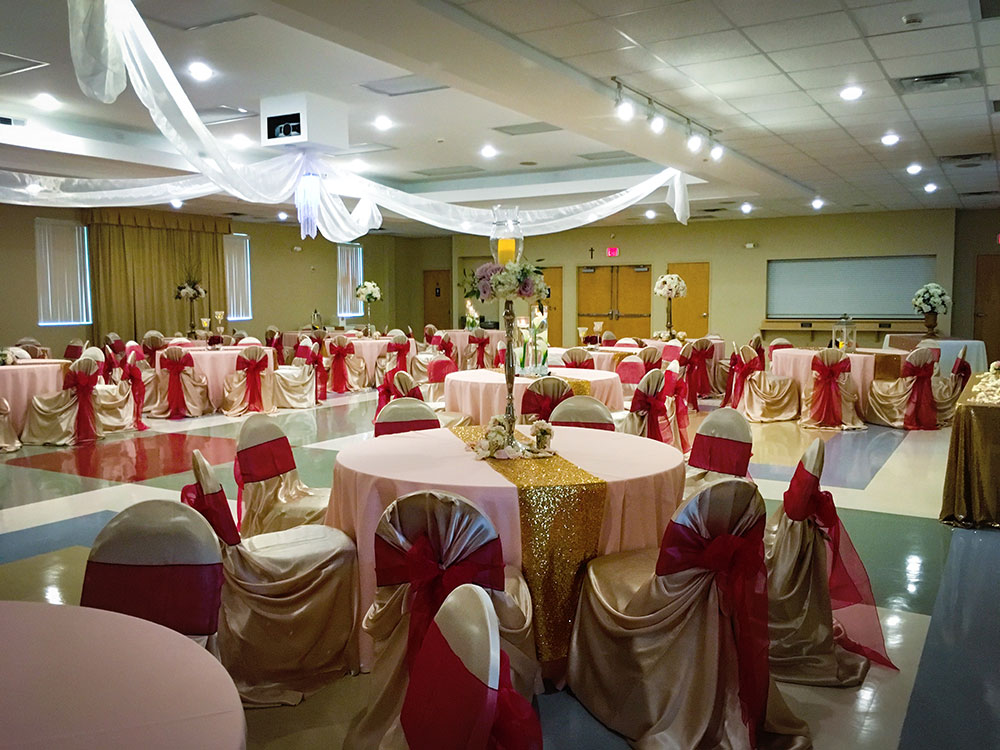 Your Creation
Your Innovation
We are happy to schedule time so you can visit our venue and come in to see the space.